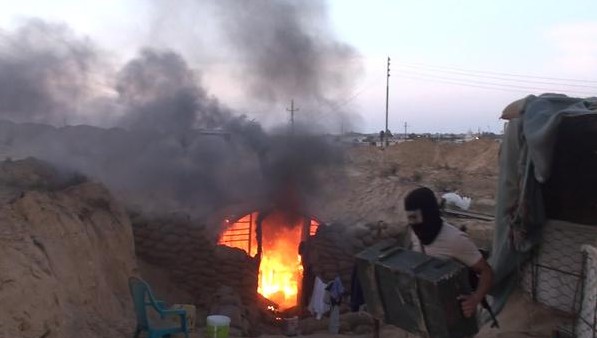 Explosions in separate incidents in Al-Arish and Shiekh Zuwied in North Sinai on Tuesday left at least 10 wounded, including police and army conscripts and civilians.
A tribal source speculated that the attacks "might be an act of retaliation against the murder of alleged member of militant groups yesterday [Monday]".
However, no militant group has claimed responsibility for the attacks.
On Monday, state media, citing an anonymous military source, reported that 10 alleged members of the militant group "State of Sinai" had been killed when Egyptian armed forces raided a hut in North Sinai.
The office of the armed forces refused to comment on the raid, and did not provide information about a possible link between the raid and Tuesday's bombings.
The first bomb exploded on an Al-Arish highway as a police Armed Personnel Carrier was passing, injuring two conscripts and one civilian, the Ministry of Interior said.
The ministry added that the victims are being hospitalised and the conscripts are "critically injured".
The bombing in Shiekh Zuwied also occurred near a military vehicle, injuring seven conscripts.
"State of Sinai", formerly known as Ansar Beit Al-Maqdis, has claimed responsibility for many of the attacks against security forces in North Sinai, including the downing of the Russian passenger jet over Sinai on 31 October, which killed all 224 passengers and crew members.
Sunday also witnessed an explosion that allegedly occurred seconds after the vehicle of Deputy Security Director of the North Sinai governorate Mostafa Al-Razaz passed the Swiss Inn Hotel. There were no resulting injuries.
Claiming responsibility for attempted attack on Al-Razaz on its social media platforms, the group said the attack was in response to the imprisonment of female Muslims by the "apostate" Egyptian army.
The group published video documentation that purportedly shows Sunday's attack on the North Sinai Deputy Security Director.
In September, the military announced the killing of at least 100 "takfiri elements" and the arrest of another 195, as part of operation "Retribution for the martyr" against militant groups in North Sinai.
Insurgents have intensified attacks in North Sinai since the ouster of former president Mohamed Morsi in 2013. The governorate has become the scene of clashes between extra-state militants and Egyptian armed forces.