Latest in
---
Recent WHO handbook states "there is no place for virginity testing" and it has "no scientific validity"
---
Egypt one of the largest Umrah markets with 945,000 pilgrims last year
---
Punishment ranging from fines and jail terms to confiscation of assets and deportation may be imposed, escalating a year-long crackdown on visa irregularities that have been overlooked for decades.
---
Kerry visited Jakarta on Monday as part of an Asian tour, tensions flared over new espionage allegations in a weekend New York Times report, which said Australian spies targeted Indonesian officials during a trade dispute with the United States.
---
Trade agreement resulting from WTO's ninth ministerial meeting, includes documents on trade facilitation, agriculture and development issues
---
The opening ceremony in Palembang, a city on Sumatra Island, was modest, reflecting the lack of funding for the event.
---
According to the foreign affairs ministry several Egyptians and Indonesians fought in Mecca on Tuesday
---
---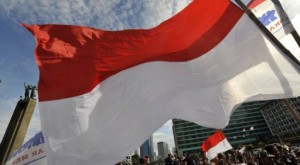 The Chamber of Commerce in Cairo is attempting to boost economic relations with Indonesia
---
Protesters lob Molotov bombs, security forces respond with water cannons
---
At least 18 people were left dead around the world, reacting to the low-budget film attacking Islam and prophet Muhammad
---
From the eyes of Muslims overseas, we explore personal experiences
---
By Asmaa Nabil A coalition of the Indonesian company Multistrada and the Transport and Engineering Company, a subsidiary of the Chemical Industries Holding Company (CIHC), are studying a plan to build an automobile frame factory financed by Misr Financial Investments. The factory will produce three million automobile frames per year. Amr Nashaat, the official spokesman …
---
By Michelle Miller May 1998 was a terrible and magical moment in the history of Indonesia's youth movement. It was a time of deep social trauma and the start of the transformation of young Indonesians into agents of democratic change after more than three decades of living under repressive authoritarian rule. The political moment began on …
---
---
JAKARTA: Many people would argue that football is as much a spiritual experience as it is a physical activity. As the World Cup and other regional league and club games have shown, it has the ability to move people — both in positive and negative ways. It can be seen as positive in that it …
---
By Singgih Nugroho SALATIGA, Indonesia: US President Barack Obama's November visit to Bali in November 2011 to attend the 19th Association of Southeast Asian Nations (ASEAN) and East Asia Summits was his second official visit to Indonesia in his role as president. In November 2010 he gave a speech at the University of Indonesia in which …
---
End of Section