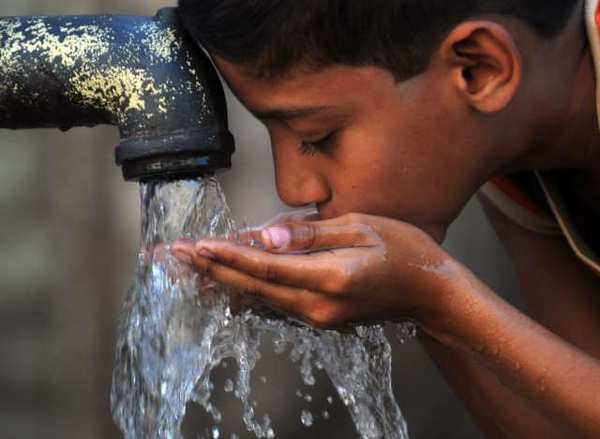 The Ministers of Housing, Irrigation and Electricity are coordinating to complete construction works for a water purification station in 6th of October City to serve the areas of Faisal, Tawabek and Kafr Tohormos, according to cabinet spokesman Hossam El-Kawish.
Several areas in Giza have witnessed water outages that lasted for days, prompting angry citizens to demonstrate on the streets to pressure the government to raise the production capacity of the plants and establish new ones.
El-Kawish said in a Tuesday press release that Prime Minister Sherif Ismail met with the ministers to resolve water outage crises.
"This project is a fundamental solution to the problem of water outages in the areas of Faisal, Tawabek, Kafr Tohormos and others," said El-Kawish. The state gives due attention to water projects in areas that are most in need, such as the governorates of Giza, Daqahleya and Sharqeya, and Sohag, he said. The government is also working to complete the construction of drinking water stations in those governorates.
According to El-Kawish, there will be coordination between the concerned ministries in order to provide fresh water tankers to the most affected areas. Ismail ordered the ministers to quickly complete the project in 6th of October City in coordination with all parties to overcome any obstacles.
Minister of Housing Mostafa Madbouly said that construction works for the plant were completed and the linking of water pipelines is underway.
Moreover, the drainage project serving the houses close to the water sources of the plant is being completed. A contract is being created with the Ministry of Irrigation to purify the water sources of all the plants.
Madbouly added that this project was halted for three years as a result of the developments Egypt went through. The project includes a source for the water plant located on the Nile shore, and a 20 km line to carry water, explaining that its first phase will serve the areas of Faisal, Tawabek and Kafr Tohormos.
Minister of Electricity Mohamed Shaker revealed that works to provide the plant with electricity were completed.