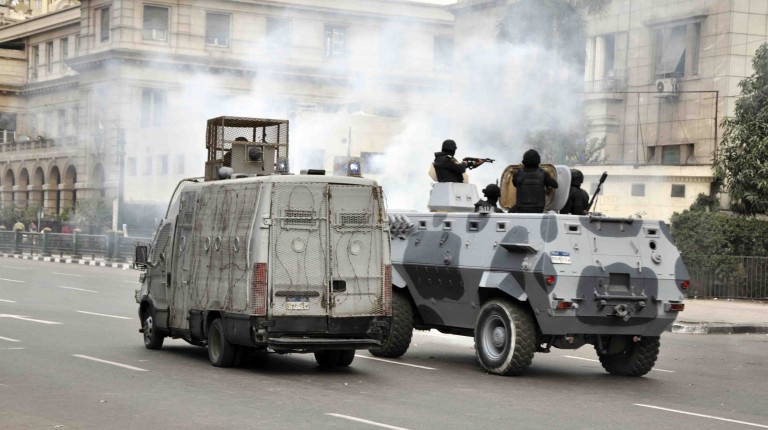 Egypt's current human rights crisis is the "most serious in the country's history", Human Rights Watch (HRW) said in its 2015 World Report on Thursday.
In the 656 page report, HRW revises the state of human rights practices in more than 90 countries.
The report also stated that President Abdel Fattah Al-Sisi has overseen this reversal in human rights as he presides "over a state of impunity", as security forces have got away with mass killings and the imprisonment of thousands of protesters.
Meanwhile, Hafez Abu Sa'da, a member of the state-backed National Council for Human Rights (NCHR), stated that the HRW report was "imbalanced," and "lacked detail and objectivity, the state-owned Al-Ahram reported.
Since Al-Sisi – then defence minister – led the military overthrow of Mohamed Morsi, Egyptian authorities have detained over 41,000 people. According to HRW, about 29,000 of those jailed are members or supporters of the Muslim Brotherhood.
Abu Sa'da also stated, the HRW's reports on Egypt, Syria, and Iraq, weaken the international position of Arab states. Another "human rights lawyer" associated with the NCHR, Ahmed Zare' stated that Egypt "must respond to the HRW accusations," the state-owned Al-Ahram reported.
This mass detention campaign has "strained the country's prisons," HRW stated. This has also led to increasing negligence as well as torture and ill-treatment in police stations and in jails. According to the Justice Ministry's Forensic Medical Authorities, it has even led to deaths in detention.
The report goes on to list the human rights decline in terms of freedom of association, expression, and assembly, declines in freedom of religion, heightening sectarian violence, with authorities prosecuting people for "blasphemy" and failing to intervene when church properties are attacked.
Violence and discrimination against women, especially in cases of sexual harassment in public space have been on the rise while there are no laws criminalising domestic violence. Authorities have also arrested more than 95 people whom they accuse of "practicing debauchery." Activists also say that police "use fake online dating profiles to target gay men and others, including sex workers," the report stated adding that this is a crackdown on lesbian, gay, bisexual, and transgender (LGBT) people.
Judges and prosecutors act as "accessories in the clampdown" as, for example, a judge in the Minya governorate sentenced 220 defendants to death and 495 to life in prison and another Giza judge ordered death sentences to 188 people in December.
Other judges and prosecutors routinely authorize pretrial detention without evidence. In addition, authorities have sent over 820 civilians to military prosecution.
The state invokes "national security to muzzle nearly all dissent" and authorities have held no one accountable for the mass killing of over a thousand protesters during the dispersals of the Rabaa Al-Adaweya and Nahda sit-ins in August 2013, which HRW called "one of the worst mass killings of modern times and a likely crime against humanity."
"Egypt is at a post-revolution nadir, and right now there's no light at the end of the tunnel," Sarah Leah Whitson, the HRW Middle East and North Africa director said.  "The situation for thousands of Egyptians is getting worse by the day."