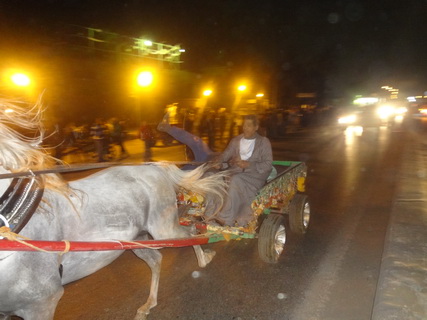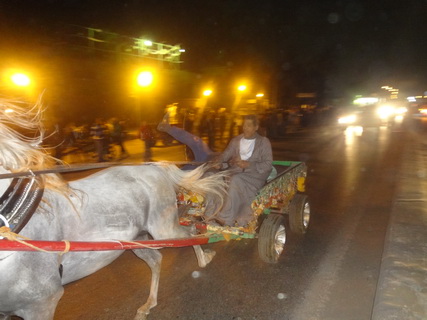 By Shaimaa Raouf and Mustafa Fathy
Thrill seekers with a need for speed unite – do not miss this global event that regularly takes place on Egyptian soil. It is a well-kept secret amongst velocity aficionados. Fasten your seatbelts and get ready for this exclusive experience.
The Place: The banks of the Ismailia Canal, which sport pleasant vistas and come complete with authentic, rural odours. More precise: Shubra El-Kheima, next to the Othman factories. In case the police want to go and shut the fun down. But hopefully they will not.
The Time: Every Thursday at 8:00 pm. Or 8:30 pm. You know, more or less thereabouts.
The Preparations: From 7:00 pm onwards you can see the 15 to 20 contestants getting ready for the main event. The carts are getting the final check, the runners are fueling up, by filling up their tank with clover. Once the stomachs of the true country horses are full, the warm-up period will begin on the track.
The Participants: Local cart drivers surrounded by a group of young cubs, the cart-drivers-in-training.
The Implicit Organisers: The police who couldn't care less about the event.
The Event: The Horse Cart Race. It involves completing a full lap of about 40 metres. Whoever does not make it to the finish line due to unforeseen events, or an accident, is disqualified. Such is fate.
The Ultimate Goal: To win. Not so much for the glory though.
The fastest and most powerful animals will fetch the best price. And winning the race is the best way of establishing market value.