Latest in
---
Agreement signed with Russia's TransMach Holding on Supplying, manufacturing 1300 railway vehicles
---
Egypt's railways have suffered for a long time from lacking any safety standards
---
NAT requests allocations worth EGP 35bn, while allocations last year reached EGP 8.144bn, including new projects worth EGP 110m, independent projects worth EGP 8bn
---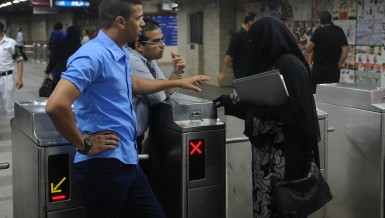 Parliament meets Arafat on 26 December, government did not discuss decision with parliament, says Desouky
---
The third phase will cost EGP 10.8bn to implement, says official
---
15.1 million train passengers in August, and 366,700 tonnes of goods transported
---
Ministry of Finance dedicates EGP 74.1m for operation of non-economic railway lines and student subscriptions, says Abdel Fattah
---
---
Prime Minister Ibrahim Mehleb formed a committee to fix the current financial issues between the Ministers of Petroleum, Finance, and Electricity.
---
Ain Sokhna port to accommodate two ships, as Port Said is not economically feasible, says Dahi
---
Technical bids to build a link between Damietta river and sea ports will be received in November
---
The Egyptian government made a decision not to renew the agreement with turkey after it ends in April 2015.
---
A number of transportation projects included in the stimulus package have been completed, says El-Demeiry
---
The Ministry of Transport indicates gradual resumption of rail activity
---
---
€40m to build third phase of Cairo Metro
---
The demonstrators at the counter protest opposed the closure of the port.
---
End of Section