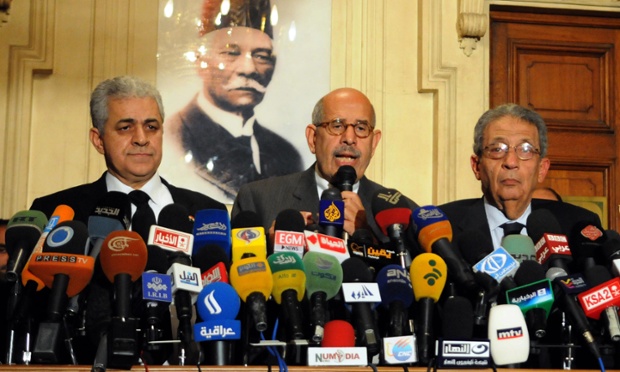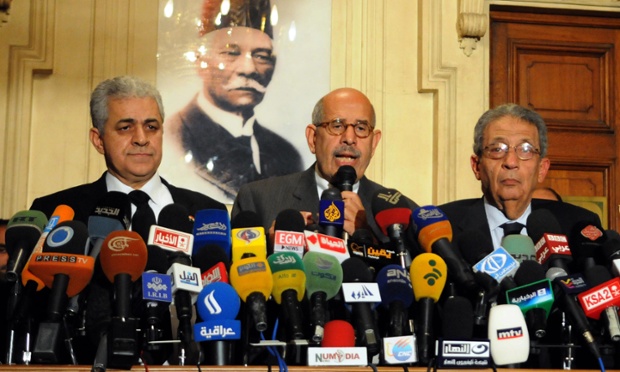 State Security investigations will continue for leaders of the National Salvation Front (NSF). Judge Hassan Yassin, head of the prosecutor general's Technical Office, sent a request to the Attorney General of the State Security Prosecution Hisham Al-Qarmouty to complete investigations into the involvement of NSF leaders in violence. The complaint accuses Al-Dostour Party leader Mohamed ElBaradei and former presidential candidates Amr Moussa and Hamdeen Sabahy of attempting to stage a coup to overthrow the regime.
The ongoing investigation has lasted six sessions, according to state-owned Al-Ahram. Lawyer Hamid Sediq claims that Moussa visited the West Bank and met with the Israeli Minister of Foreign Affairs to plan unrest in Egypt in order to create instability at the expense of President Mohamed Morsi.
In a statement earlier this month, the NSF called for the "downfall of the regime of tyranny and domination of power by the Muslim Brotherhood," calling on Egyptians to continue demonstrating peacefully across the country.
NSF leaders were referred to the Supreme State Security Court earlier this month after a report was filed accusing them of using vigilante groups, including the 'Black Bloc', to overthrow the government. Essam Khalil, the lawyer who submitted the report, claimed that the NSF was plotting to kill members of the Muslim Brotherhood and sought to destabilise the Egyptian economy by compromising national security.
The NSF has called for a number of demonstrations against President Morsi, but has not officially requested that he resign. The opposition organisation has condemned violence that took place at the presidential palace and in other parts of the country, holding the president and the Ministry of Interior responsible for harsh crackdowns.
The NSF has repeatedly stated it will not meet with the president until its demands are met, and has boycotted the ongoing national dialogue with Morsi, the heads of other parties, and prominent politicians.