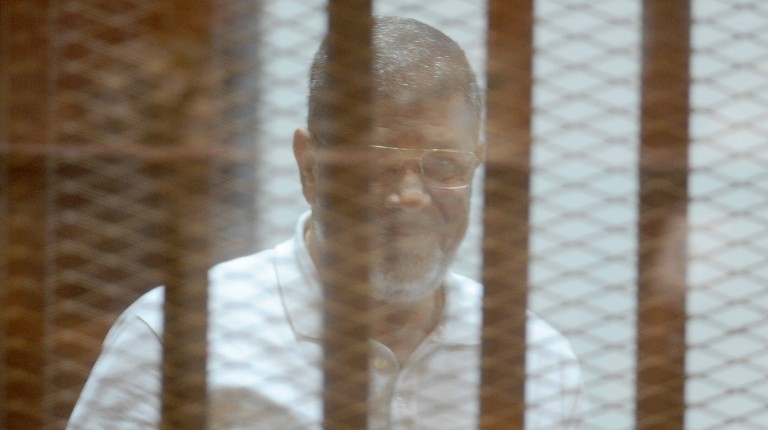 The Cairo Criminal Court decided Thursday to postpone the "Wadi El-Natrun" trial of ousted president Mohamed Morsi and  130 more Muslim Brotherhood members to Sunday 8 February, state-media reported.
Morsi is accused of escaping Wadi El-Natrun Prison on 29 January, 2011, during the 25 January Revolution.
Morsi's co-defendants in the case include Muslim Brotherhood Supreme Guide Mohamed Badie, Safwat Hegazy, Saad Al-Katatni, Mohamed Beltagy and Essam El-Erian.
The defendants are also accused of damaging and setting fire to prison buildings, murder, attempted murder, and looting prison weapons at three separate Egyptian prisons.
Prosecutors claim 800 heavily armed foreigners affiliated with Hamas, Hezbollah, and "the international organisation for the Muslim Brotherhood" entered Egypt from Gaza through tunnels and aided the defendants in breaking into prisons and freeing prisoners.
Judge Shaban Al-Shami stated that investigations also revealed that the Brotherhood was "training elements of the Iranian revolutionary guards to create chaos in the country".
All groups involved in the case deny the allegations.
Morsi is a co-defendant in three other trials, including inciting the killing of protestors during deadly clashes outside the presidential palace in December 2012; insulting the judiciary; and for espionage for working with foreign Islamist groups to "create chaos" in Egypt.
Morsi has previously criticised the court as "lacking jurisdiction and authority".