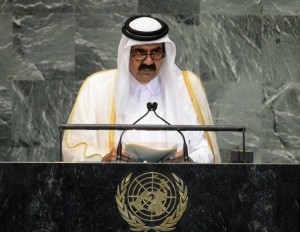 Gaza City, Palestinian Territories, (AFP) — Qatari Emir Sheikh Hamad bin Khalifa al-Thani will visit Gaza on Tuesday in the first such visit by an Arab leader since Hamas took over in 2007, sources close to the ruling Islamist movement said.
"The emir of Qatar will arrive in Gaza on Tuesday," a source close to the Hamas government told AFP, speaking on condition of anonymity.
"Tomorrow (Monday), a Qatari delegation will come to Gaza to prepare the programme and discuss details of the visit."
Earlier, the Shihab news agency which is close to Hamas quoted an unnamed official from the movement as saying: "The emir of Qatar will come to Gaza on Tuesday to open several projects in the strip."
It will be the first visit to the Palestinian enclave by an Arab head of state since it was occupied by Israel in the 1967 Middle East war.
The emir will be one of the territory's most high-profile international visitors since Hamas ousted the rival secular Fatah movement of Palestinian president Mahmud Abbas from Gaza in June, 2007.
Abbas heads the West Bank-based Palestinian Authority.
Speaking on condition of anonymity, a Palestinian official confirmed to AFP the Qataris were in talks with Abbas's office over the emir's planned visit.
Qatar in February brokered talks between Abbas and Hamas's exiled political chief Khaled Meshaal, who has shifted his political base from war-torn Damascus to Doha, in a bid to promote Palestinian unity.
Last month, Mohammed al-Emadi, Qatar's envoy to the Hamas-run territory, said Doha was to invest $254 million (195 million euros) in rebuilding Gaza.
He said the project would involve the construction of roads, housing and infrastructure, as well as agricultural development.
On Saturday, Emadi told AFP that Cairo had given permission for all the necessary building materials to enter Gaza through the Rafah crossing with Egypt.
Over the past year, diplomatic ties between Gaza and Qatar have warmed.
In January this year, Hamas prime minister Ismail Haniya paid his first visit to the Gulf emirate.
Several months later, Qatar delivered 30 million litres of fuel in a bid to ease a chronic energy crisis in the territory, which is still subjected to a partial Israeli blockade.
In recent days, Qatari flags have appeared on the streets of Gaza alongside pictures of Haniya with the Qatari emir which were taken when he visited Doha.
Huge hoardings have also been put up, showing posters reading: "Thank you Qatar for keeping your promises."
The official Qatari news agency reported that the emir telephoned Abbas on Sunday to discuss bilateral ties and received a call from Haniya earlier for talks that centred on the Palestinian situation.