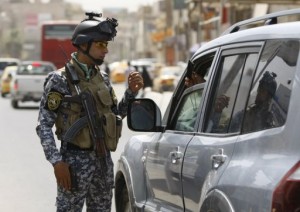 The "Destroying the Walls" campaign pledged last week by Al-Qaeda's local Iraqi branch is in full swing. Al-Qaeda militants clashed with the country's security forces on Thursday, leaving at least 12 dead, including five Iraqi policemen and seven militants, and destroying an Iraqi helicopter, the Associated Press reports.
The fighting began Wednesday in the town of Hadid, once a stronghold for rebels and insurgents. It escalated violently through Thursday.
"It was fierce fighting and lasted several hours between the security forces and Al-Qaeda fighters," said Blaer Hassan, a provincial security official in Diyala.
"The Hadid area is a stronghold for al-Qaeda and constitutes a danger to the province and also to Baghdad."
"This is a setback because we are worried about the capacity of Iraqi forces in the face of the growing strength of al-Qaeda," Hassan said.
The Islamic State of Iraq (ISI) said the "Destroying the Walls" campaign, announced by Al-Qaeda leader Abu Bakr El-Baghdadi it on the jihadist website, Honein, is attempting to usher in a new era of jihad and retake ground lost in the 2003 US invasion.
In related news, the nearby city of Baquba saw fifteen elected neighbourhood officials resign from their posts, stating that the government could not protect them from al-Qaeda.
The officials were mukhtars –literally meaning 'the chosen' and were elected liaisons between the people and the government. They resigned due to threats against them and their families from violent militants, threats they did not believe the government could protect them from.
Eight mukhtars have been killed this past year in Baquba, along with seven family members.
The ISI under El-Baghdadi has also announced its support for Syrian rebels and opposition groups fighting against Bashar Al-Assad's oppressive system. Iraqi officials have expressed concern about al-Qaeda activities on both sides of the Iraq's long border with Syria.
The attacks and the resignations come only days after the first offensive of the "Destroying the Walls" campaign. The first wave of attacks was a coordinated offensive that spanned the entire country last week, leaving 116 dead. It was considered by many the worst attack Iraq had seen in two and a half years.