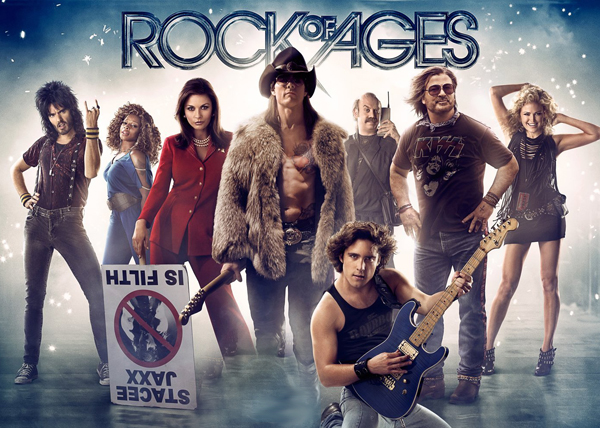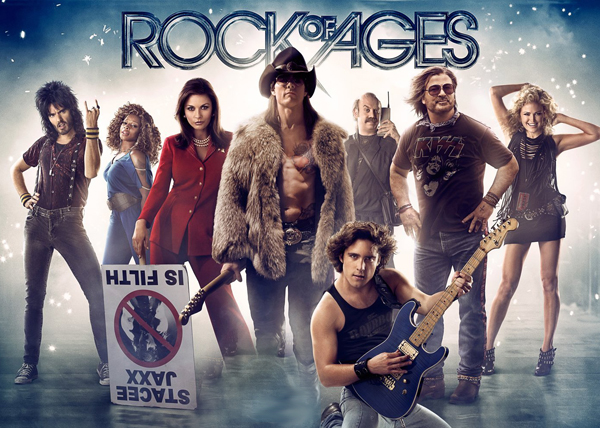 This past April, I went to see the Broadway musical "Rock of Ages". Fresh off a grueling set of exams, I was in no mood for the emotional roller coasters Broadway typically has to offer. I just wanted to sit back and chill.
The musical did not disappoint. I spent the next three hours alternating between laughing myself into the aisles and singing along to some old favourites by the likes of Journey, Bon Jovi and Guns 'n Roses.
I first heard about the movie adaptation through a trailer in the cinema, watching Russell Brand perform the pelvic thrusts that, in my opinion, have become his only marketable commodity. I rolled my eyes and promised the memory of the wonderful musical I had seen I would never defile it by watching a movie adaptation that pitched Alec Baldwin as a hippie.
Imagine my surprise, mere weeks later, when I did. On top of that imagine me with a voice hoarse from singing along and with a movie theatre's worth more of enemies that I had when I entered. My voice does strange things to people.
Before any serious attempt at critiquing this movie, I must stress what kind of a movie Rock of Ages is. Rock of Ages does not pretend to be a serious movie. It does not pretend to have any semblance of a deep plot or intriguing characters. It does not promise you will identify with the hero or fall in love with the heroine. It simply promises that you'll learn about some great new bands, you'll laugh at the funny bits, and you'll wish you lived in Hollywood in the late 80's.
Contrary to what I said above, Alec Baldwin made a great hippie. That is to say, the strength of this movie lies in the casting, along with the music. Top on the list of bedazzled rock gods is Tom Cruise, resplendent in leather chaps and a frankly ridiculous Walmart wig. His portrayal of fictional rock icon Stacee Jaxx is perfect. If Tom hasn't spent the last few months watching live Whitesnake performances I'll eat my shoe. He pulls off the hedonistic sex symbol image perfectly, right down to the self-assured swagger and pet monkey called "Hey Man". Cruise's voice is also surprisingly on-point, sounding like a veritable vocal powerhouse during his rendition of "Wanted Dead or Alive."
Next is the pair I was most apprehensive about. I've always idolised Alec Baldwin as the embodiment of the classy suited-up alpha male. To see him with yet another terrible wig (was a store going out of business somewhere?) and donning a dirty poncho in the role of Bourbon Room owner Dennis Dupree was more than I could bear at first. His singing is also sadly unsalvageable, even by Autotune. Russell Brand was a surprising pleasure as the dim-witted but good-hearted Lonny, with none of his characteristic brand of irksomeness. Together, however, the duo shines with some of the movie's most memorable 'bromantic' moments, such as delivering a heartfelt rendition of "Can't Fight This Feeling" after simultaneously coming out.
In the role of star-crossed lovers Drew and Sherrie are two virtual (acting) unknowns, Diego Boneta and Julianne Hough. One of my personal favourite casting calls, as having established actors in the roles of an average "guy meets girl" story would never have been as nice. On top of that, both have made names for themselves in the music industry and so the songs they co-perform are simply  beautiful. If you don't get shivers during "Don't Stop Believin," you're heartless.
There were a host of other stellar talents visible. Catherine Zeta Jones gives a passionate rendition of "Hit Me With Your Best Shot". Paul Giamatti delivers the slickest depiction of a scumbag agent since ever. Malin Akerman is stunning in the role of the Rolling Stone journalist who turns Stacee's life around, with a steamy scene to boot. Finally, Bryan Cranston fools around with his secretary and spits whisky at the television once. And even then, he's doing it well.
To sum up, Rock of Ages is one of those movies that really shouldn't be good. They've taken a successful musical, removed all semblance of plot, introduced hunky actors instead of veteran musicians, and still, somehow, impossibly, it's better than watchable. It's actually good. If you're a fan of 80's rock, you'll be clapping and singing along to the vexation of all. If you're not, you'll be doing the same thing the second time you see the movie.