Latest in
---
The international football friendly matches held last week witnessed the scoring of many remarkable and unforgettable goals in national teams' histories. Many international footballers succeeded in boosting their scoring chart with their national teams. The latest of these friendly games also saw Egyptian star Mohamed Salah's progress on the list of top Egyptian goalscorers with …
---
Twelve years ago Ronaldo was left in tears after Greece wrecked his Euro dream. This time the Real Madrid star was in tears, but the script had a very different ending.
---
France and the in-form Antoine Griezmann go in to Sunday's Euro 2016 final searching for the country's third successive tournament win on home soil. But Cristiano Ronaldo and his Portuguese teammates stand in their way.
---
With both Portugal and Austria winless in the European Championship, both sides were looking to get off the mark in Paris, but Ronaldo's penalty summed up Portugal's night.
---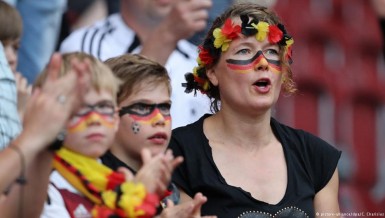 Football fans love to sing, no matter what the score is – and apparently some players do, too. Here are some of our favorite classic soccer songs to get in tune for Euro 2016.
---
---
Will Real Madrid reach another final or can Manchester City make more history by reaching their first? Boosted by Ronaldo's return and Bale's form, Real Madrid are the favorites to be in Milan at the end of May.
---
Despite many predicting a Barcelona win, late goals from Benzema and Ronaldo claimed all three points for Real Madrid. Barcelona's lead at the top of the table has now been cut to six points.
---
Mourners, many in tears, threw red and white Benfica scarves on the hearse and waved red and green Portuguese flags as it passed by, crying out: "Eusebio, Eusebio".
---
---
End of Section