Latest in
---
The initiative aims to provide financial resources to educate unprivileged children and the bedouins' children in Egypt
---
"We mainly aimed to use the fabrics that we already had in the stock room; we did not want to be wasteful," says designer
---
When consumers constantly upgrade to the latest smart phone, this carries a heavy environmental cost. Although recycling helps, the underlying problem is economic growth versus the environment. How can this be solved?
---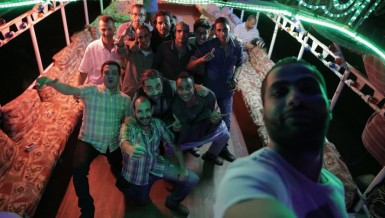 "It is a positive message portraying diversity, and respects the hijab," says model
---
We aim to recycle 100 tonnes a month during 2015, says CEO
---
Green Pan collects used vegetable oil from restaurants, hotels and houses to produce up to 2 tonnes of biodiesel daily
---
Development project aims to build a community centre out of cheap, durable material
---
---
Reducing consumption and changing behaviours top the conference's agenda
---
Company also plans investment in the project by 2016
---
The investment costs for the first phase reach $600m of joint Saudi, Emrati and Egyptian investments.
---
Iskandar's proposed initiative would see the separation of solid waste into categories to aid in its disposal.
---
RecycloBekia will pick up your electronic waste and make sure it is properly recycled
---
El Gouna residents focus on the four elements and how to preserve and conserve them through awareness and active community participation
---
---
The workshop will focus on teaching participants to use recycled materials like paper to create papier mache and different assemblage techniques.
---
Additionally, Resala is a good place for you to send your old books and clothes. Among its various activities the organisation is recycling paper, collecting clothes and distributing them to those who need them.
---
End of Section